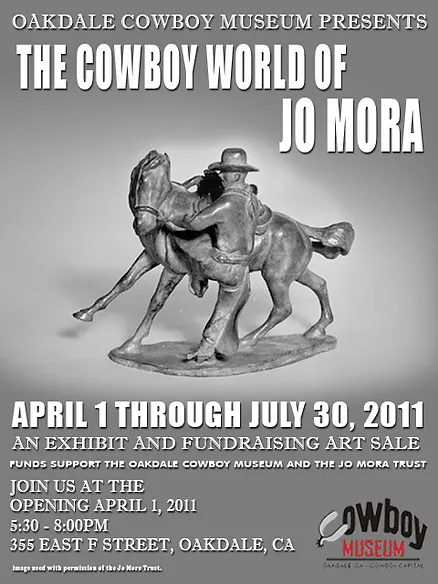 The Oakdale Cowboy Museum is proud to present The Cowboy World of Jo Mora. This new art exhibition and fundraising art sale will give the viewing public an opportunity to observe numerous examples of art work by Joseph Jacinto "Jo' Mora (1876 – 1947), including prints, examples of his cartes and his bronze sculptures. An opening reception will take place on Friday April 1st from 5:30 P.M. until 8:00 P.M. at the museum, which is located at 355 East "F" Street in Oakdale, California. The exhibit will run through July 30, 2011
When an artist's list of abilities is as long as a well-thrown reata, and the descriptions of his talents include illustrator, painter, sculptor, writer, photographer, architect, cartographer, and cartoonist – it is hard to imagine there are any other appropriate nouns in the equation. In the case of Jo Mora there is – cowboy.
The majority of the artwork in this exhibit, including Mora's bronze sculptures; stem from his love and first hand knowledge of the vaquero and American cowboy. From the time Jo was a young boy, he visualized what life was like on the plains of the West. He wrote about cowboys and Indians and illustrated his efforts. Inspired by seeing the Buffalo Bill Wild West Show during his youth, he was motivated to actually go and experience this western way of life through his own eyes.
In addition to Jo Mora's career as a visual artist, he is remembered for two outstanding books that he wrote and illustrated. We are fortunate to have the opportunity in this exhibit to see printed illustrations from Trail Dust and Saddle Leather and Californios: The Saga of the Hard-Riding Vaqueros, America's First Cowboys. These books were written from that first hand knowledge and almost at a single sitting Jo's son, Jo Jr. explained in a conversation several years ago. The books continue to be benchmarks for the subject matter they covered, and although out of print, are still sought after by historians doing research about the old West.
Jo Mora was born in Uruguay, to a mother of French heritage and a father who was Catalonian. The family moved to the eastern United States when Jo was a young child. His father was a classical sculptor, and his brother became a classical painter. After attending art school and working as an illustrator and cartoonist in the Boston area, Jo spent the rest of his adult life living and working in the western United States, primarily in California.
Jo's artistic achievements can be seen across the country and up and down California.
From heroic sculptures at the Woolaroc Museum in Oklahoma to architectural adornments on buildings in San Francisco, San Jose, Salinas, King City, and Los Angeles, Mora's genius is ever present in public places.
It is an honor that this exhibition should take place in Oakdale at the Cowboy Museum.
In a town that saw its first cattle herd arrive in 1853, it is fitting to celebrate that history through Jo Mora's knowledge of that cowboy way of life. In the style of an art gallery, a large number of the art pieces in this exhibit are available for sale. The proceeds will benefit the Oakdale Cowboy Museum's Scholarship Fund and The Jo Mora Trust to support further exhibition and publication opportunities.
For more information about the Cowboy Museum and this exhibition, contact Christie Camarillo – Executive Director, 209-847-5163. Publicity visuals with captions are available through the museum.