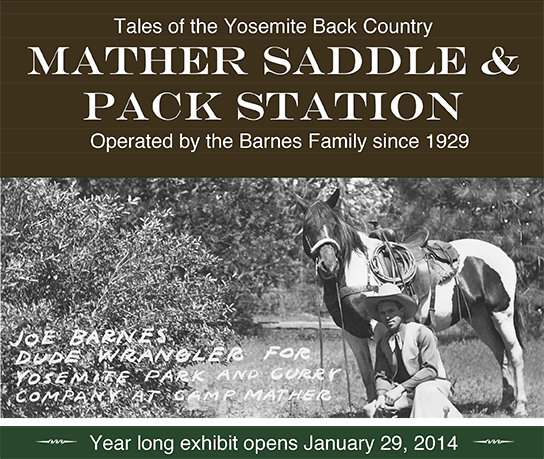 In partnership with Yosemite National Park, the Oakdale Cowboy Museum is excited to join the celebration of the 150th Anniversary of the Yosemite Grant Act. The Grant Act, signed by President Lincoln in June of 1864, was for the protection of the Yosemite Valley and Mariposa Grove. These two special places, both in what is now Yosemite National Park, were the first resources in the world set aside for preservation thereby planting the seed for the idea of national parks.
The Oakdale Cowboy Museum will open our year long exhibit, "The Tales of the Yosemite Back Country, Mather Saddle & Pack Station, operated by the Barnes Family since 1929", on Wednesday, January 29, at the Oakdale Cowboy Museum with an open house from 5:00pm-700pm. In 1929, Joe Barnes established the Mather Saddle & Pack Station. He raised his family during the summer months at the pack station with everyone participating in the operations of the business. Jay, his son, learned the family business with a hands-on approach, and with the help of his wife, Liz, sons, other family members and several wranglers, he continues to run the saddle and pack station today. The exhibit will tell the history and stories of 85 years of packing and trail riding in the Yosemite back country with the Barnes Family.
We are honored to recognize this historic milestone along with Yosemite National Park.